The following guide will be your complete tour through the OneSaas application. Please note that some options may change depending what plan you're on. We'll cover the area's below:
---
Apps Dashboard

The Apps Dashboard will be the first thing you see when you log in to your OneSaas account after your initial setup. On this page, you can perform the following tasks:
Adding another connection
Guides on how do this for every connector can be found via the following link - http://support.onesaas.com/hc/en-us/categories/200156774-How-to-connect-to-OneSaas
Running Manual syncs
To run a manual sync, all you need to do is simply hit Trigger Manual Sync as seen in the screenshot below: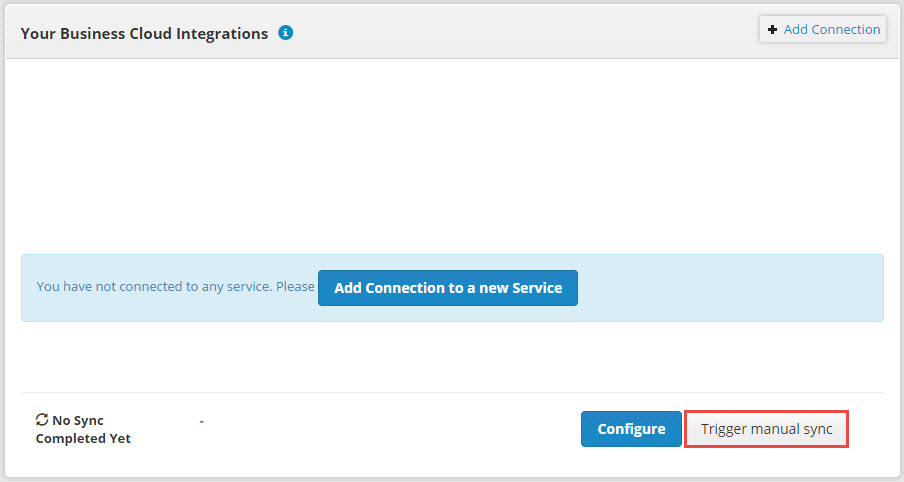 Viewing basic reporting data
On your Apps Dashboard you will be able to see some basic reporting data. This will give you a basic overview on how your integration has performed in the last 24 hours. Below is an example of how this will look: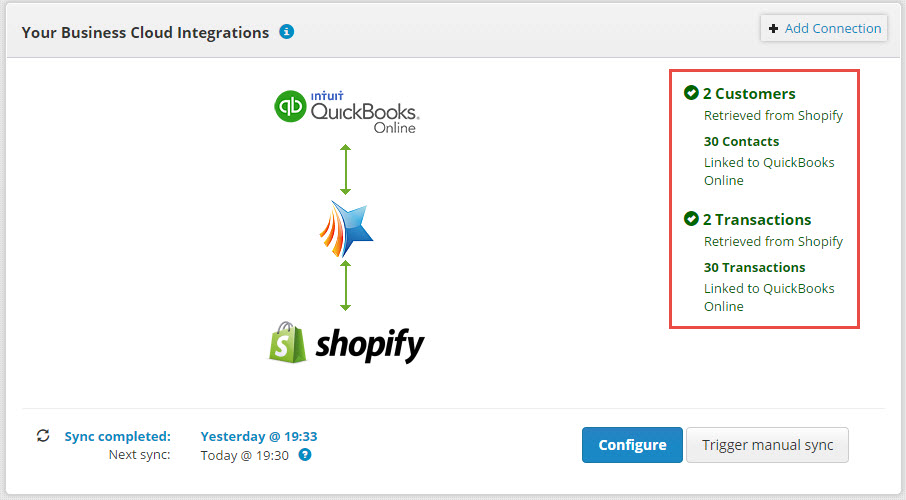 Configuring your integration
From your Apps Dashboard you can start the configuration process. This is probably the most important part of your integration, as this is where you tell OneSaas how you would like the integration to behave. You can do this by hitting the Configure button as seen in the following screenshot: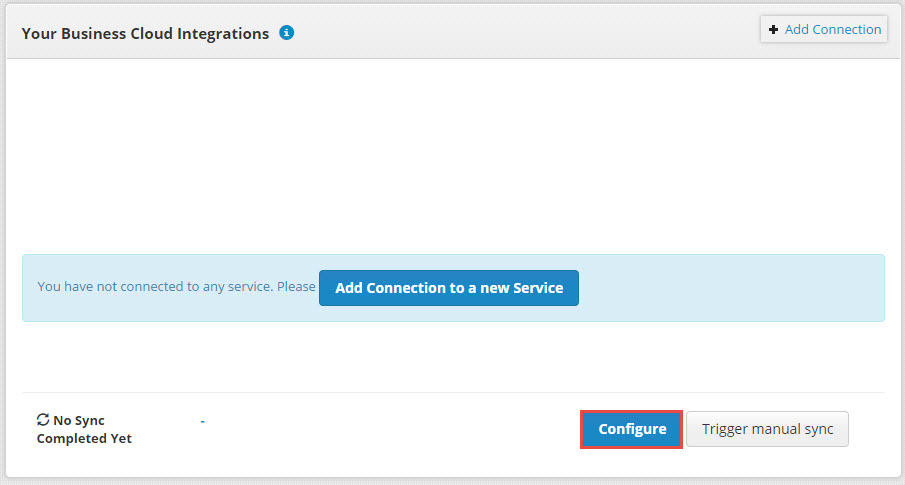 ---
Integrations

The connections page is where you can manage, synchronize and remove specific connectors. You will be able to perform the following tasks:
Removing a connector
If you are no longer using a specific connector, you have the option to completely remove the connector. You can do so by hitting Remove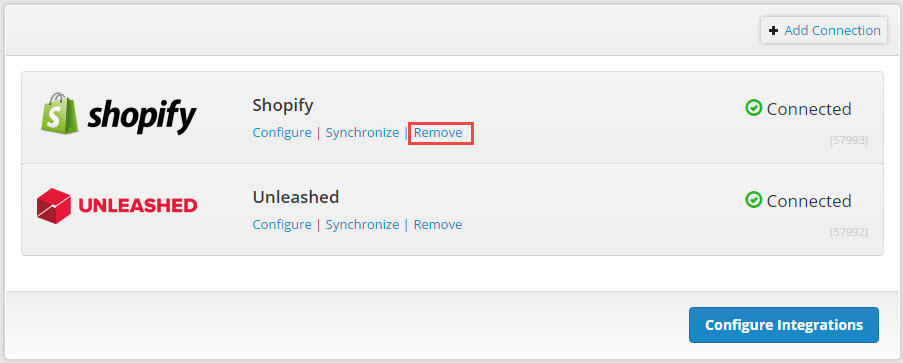 Synchronize a specific connector
If you would just like to simply pull data out of only one system without anything pushing to the other, or even if you'd like to push data to a system, without pulling any further data out of the other, you can run Synchronizations on specific connections. You can do this by hitting Synchronize on the connector you'd like to sync: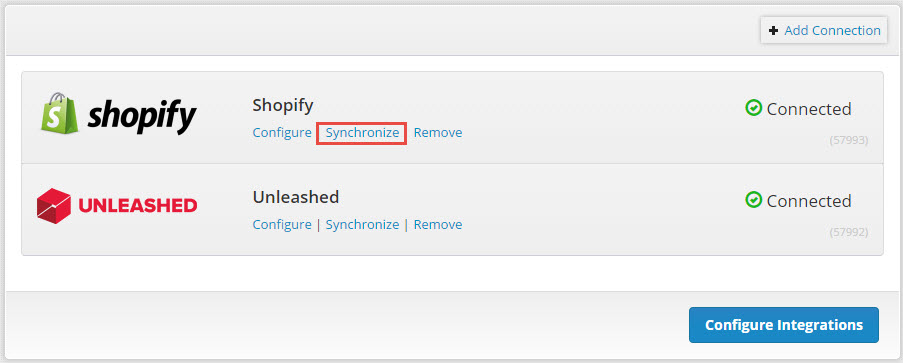 Start the configuration process
By hitting configure on a specific connector, you'll be taken to the specific part of the configuration process for the connector you hit configure on: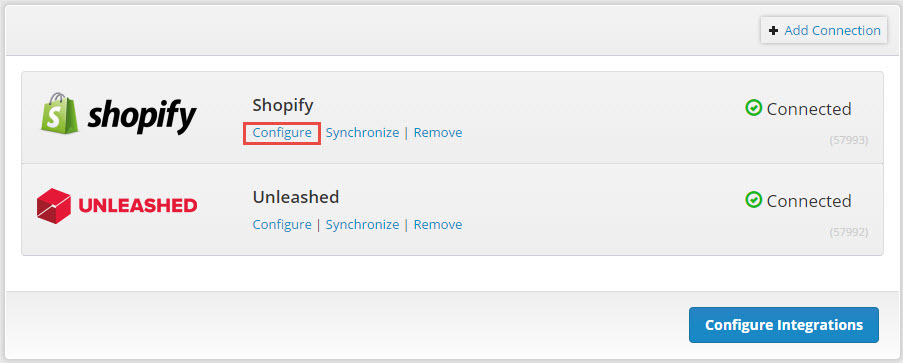 Sync Settings

For more details on how to manage your sync settings, please refer to the following article - http://support.onesaas.com/hc/en-us/articles/204173274
---
Reports

This section of your OneSaas file will basically display everything that is going right, or maybe even going wrong with your integration. Here is where you can find sync errors and alerts, in most cases you can fix them yourself!
Status & Data Reports
Here you will be able to see a basic overview of any alerts, errors or notifications you're getting. You will also be able to see the specific data effected by each of the messages.
Synchronization Reports
For a more detailed overview of the status of each individual synchronization, you can look here. You will be able to see what, and how much data we pull or push to each of your systems connected.
---
Data

Everything that you sync through OneSaas will be here for you too look at. Here, you'll be able to manually edit and even delete data. You will be able to see the following data types:
Contacts
Transactions
Items
Accounts
Taxes
Jobs
---
Support

For your convenience, we've provided you with an option to contact our support, or even access our whole help center right within the OneSaas application.
---
Account

In this section of the OneSaas application, you'll be able to do everything from paying for your plan, changing your password or even adding a new user. Below is exactly what your can do in each part of your settings:
My Plan
On this page you can see the details of the plan you're currently on, or even upgrade to a higher plan
Billing
For more information on how to view your billing details, check out the following guide! - http://support.onesaas.com/hc/en-us/articles/203263370-How-To-View-Your-Billing-Details
And if you would like to update your Billing details, you can do so here - http://support.onesaas.com/hc/en-us/articles/203157220-How-To-Update-Your-Account-Details#payment
User Management
Here, you'll be able too add new users, edit any users, set your account owner, and even reset your password