Setup your OneSaas integration between Etsy and QuickBooks Online within minutes using our simple setup process. Below is a step by step walkthrough, highlighting some useful key points throughout the process:
Connect
Begin here by connecting your apps to OneSaas. If you haven't already connected your apps, you can follow our guides to integrate Etsy and QuickBooks Online. Select Manage to move forward.
Configure
The configuration process described below is for a standard integration between Etsy and QuickBooks Online. If you are also connecting a third app, then you'll have to configure this as you go through the setup process.
Please never hesitate to reach out to our friendly support team for help at any point in time.
Our Etsy and QuickBooks Online integration has a single workflow which is to send all new orders from Etsy to QuickBooks Online. Every part of the configuration setup will be explained below.

1.) Order flow configuration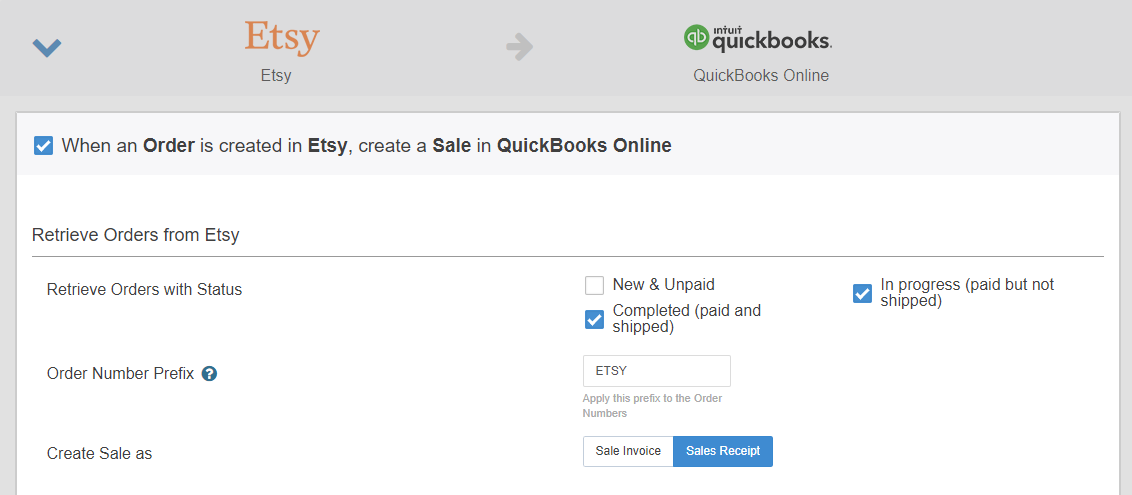 Select the Etsy order statuses from which the app will retrieve sales from to sync into your Accounting system.
(e.g. Depending on the nature of your business, you may want to also sync sales in New & Unpaid status).
Order Number Prefix - Traditionally, the Etsy system will provide the order number. This will then be used as the invoice number when sent to the Accounting system. However, invoice numbers can potentially overlap with old, pre-existing invoices in your accounting system. As a result, the integration gives you the option to specify a prefix to ensure that Etsy order numbers are unique when they are sent to your Accounting system.
Select how Etsy orders will appear in your accounting system. In the case of QuickBooks Online, you can send the order as Sale Invoice or Sales Receipts. Please select the appropriate option for your business.
2.) Next is the tax configuration. Here, for each tax created/defined in your Etsy, you must select its corresponding sales tax in your Accounting system. There are times tax rates aren't available during the setup process, if that happens, wait for an order to sync from Etsy so your tax rates will sync over and should be available in the tax mapping setting.

You can read more about the tax configuration here.
3.) Sold item configuration - The income account added here will be used by OneSaas for creating new service line items and to ensure all sales data from each order will be sent over to the correct income account in QuickBooks Online.

4.) Lastly, Payment configuration settings will allow you to select whether you want payment data from Etsy to be registered against your sales within your Accounting system.

You can read more about how this works here.
If you are unsure of which clearing accounts to use, please ask your accountant.
If you are happy with the workflow you have created, click on Save.
Sync
Once you are finished in configuring your integration set up, you can proceed in setting up your sync settings.

The Integration Starting Date setting specifies a filter against your Etsy order date. This means any orders dated before the specified date will not sync.
Once you have agreed to the OneSaas user terms and conditions, you can then turn on the automated hourly sync!