When configuring your QuickBooks Connector integration, you're required to choose or create a Shipping product and also have the option to create a Discount Product and other special products. These products are very useful in your integration as they provide a default product that can be automatically created for line items in your invoices that are not represented by standard products. There is, however, a bit of confusion on how to use them and how they work. Below we'll explain this concept to help you understand how easy, simple, and great these products are.
The Shipping product
The Shipping Product is called a product because that is what it will be treated as in a connected service, like your accounting application, however, it's much more than just a product. QuickBooks Connector creates and uses the Shipping Product to gather shipping costs from wherever you process your sales (e.g. your eCommerce system), then pass this data on in the correct format to your Accounting system and other connected services where you want your sales data to end up. After the Shipping Product is configured, no further action will be required by you – QuickBooks Connector uses it to process your shipping costs differently than other line items in your orders and invoices, for example, to apply different taxes and to allocate it to a different income account.
Why do I need to create the Shipping product?
Well, we don't want to automatically start creating data in your Accounting system without you knowing how, or why it ended up there – so we let you create it yourself, in QuickBooks Connector. This allows you to stay in control of your data and how you want it to be treated.
What does it look like in an invoice?
In OneSaas (Example):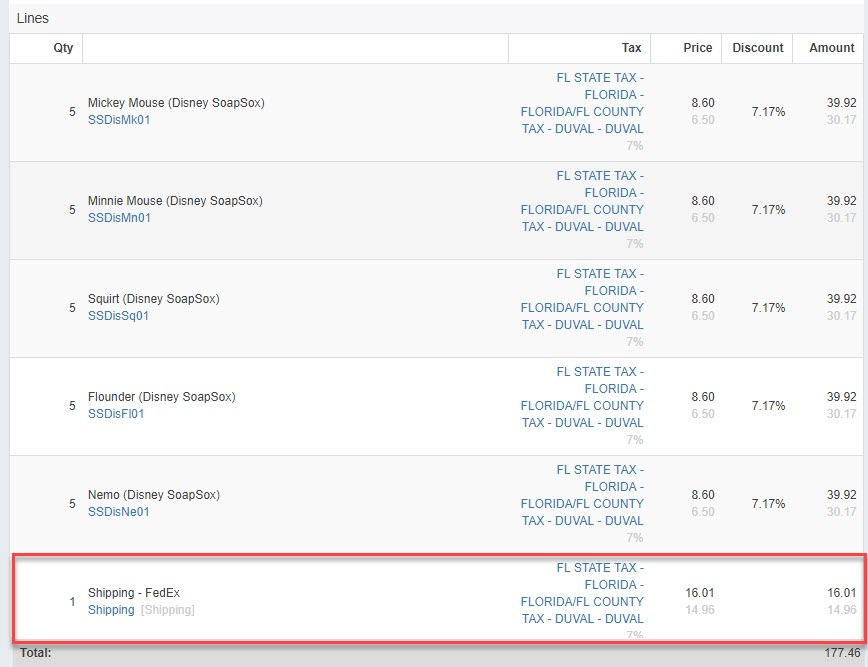 In Quickbooks Online(Example):

The Discount and other products:
The Discount Product and other special products are very similar to the Shipping Product in that they enable QuickBooks Connector to create products to represent line items in your invoices that are not standard products. What makes these different to the Shipping product is that they're not mandatory.
Awesome, how do I configure these special products?
As an example, lets say we have an integration between Bigcommerce and QuickBooks Online – once you are on the configuration screen, below are the steps you would follow:
Tick the box that says 'When an order is placed in Bigcommerce, I want: the sales invoice/sale receipt to be created in QuickBooks Online'.
After ticking the box in the screen above, the configuration menu will appear from your screen, click the "Default Products and Advance Options" to set up the shipping, discount, and default gift card products.
For simplicity, you can leave the Item Code and Item Name fields as they are, or you can change them to suit your business's needs. You can also specify a specific income account and tax rate for your shipping fees.
Once created, you can save your changes and move forward with the rest of the configuration process. Your next step will give you two options:

If you'd like QuickBooks Connector to create the product for you, you'll need to configure our integration to do so by ticking the box that says Create New items in Quickbooks.
If you don't want us to create it for you, you'll need to create the product manually with a matching product code in QuickBooks Online. Once done, QuickBooks Connector should automatically match this for you.