Here's our guide on how you can connect Magento with your OneSaas file, after registering your account with us.
Please note - OneSaas only supports integration with Magento versions 2.0 or higher.
Installing Our Plugin
Download the OneSaas Magento 2.0 Plugin (https://partners.onesaas.com/cdn/spokes/magento@latest/latest/magentoconnect.zip).

Our Magento Plugin connects OneSaas to your Magento 2.0 site. Remember where you saved this plugin on your disk.

Extract the contents of the zip file.

Copy or FTP all the extracted files to your Magento installation directory.

Run the following command to install the plugin:

php bin/magento setup:upgrade

Log on to the admin section of your Magento.
Select the OneSaas -> Integration link from the System menu.
This will provide you with the OneSaas API Key. Copy this key, you'll need it later in the integration process.
Connect
1. From the OneSaas Dashboard, go to Connection tab and click "+Add Connection".

2. Apps that we support will be displayed on your screen. Scroll down to the eCommerce section, and then select Magento from the available list. Please press "+Add" button to add Magento to your OneSaas file.

3. To connect and authorize our service to access data from your Magento store, please click on Connect to Magento.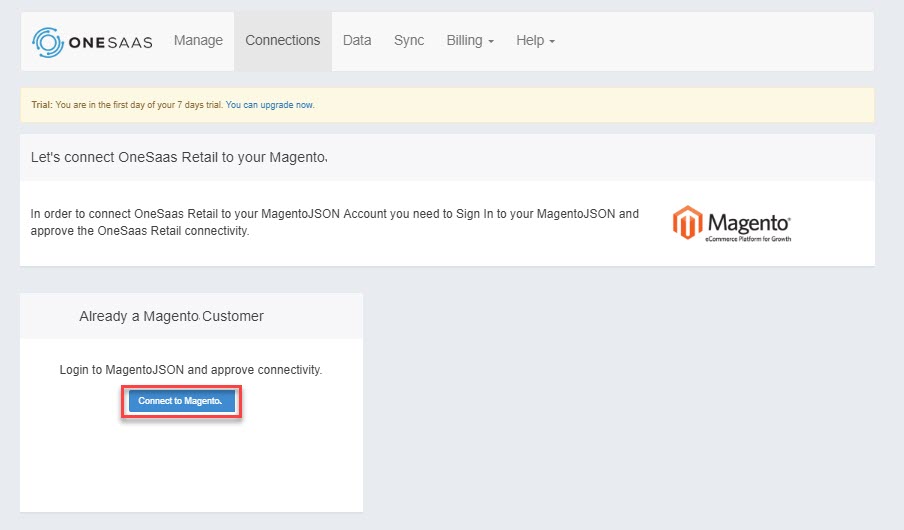 4. A new page will pop up from your screen and it will ask you to enter the Magento API Key that was provided to you after installing our plugin. Once done, hit Connect to Magento.

5. Great! Your Magento account is now connected, and authorized with your OneSaas file.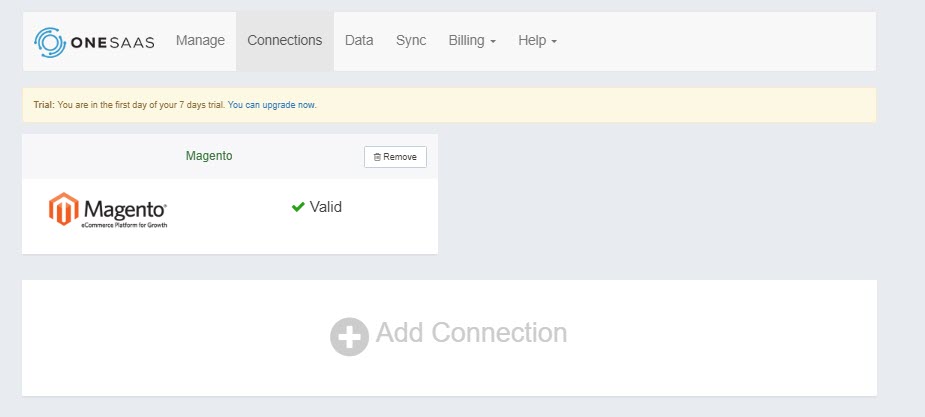 6. Now that you've connected Magento, you can either add another connection by selecting Add Connection, or move forward and configure your integration.